This is the second post in a series called Ode to Secondhand, in which I regale you with the wonders of Craigslist, the online resale feast that has supplied much of our furniture (and fodder for refinishing projects).
What happens when you get pregnant with #2 and baby boy suddenly needs all of big girl's bedroom furniture? You get on Craigslist (or go to your secondhand shop of choice) and buy that 20 month old big girl another crib.
Seriously. While you may have the 1 1/2 year old that can handle a toddler bed, our daughter loved her crib (read: she's three now and still takes a daily three hour nap in it) and we weren't about to take it away from her. Between a cross-country move and a baby on the way, I just didn't want to traumatize her more than necessary.
So off to Craigslist I went. I scored a crib + mattress for FREE, a rocking chair for about $25, and a bookcase for $40 (Hubs thinks I should have haggled on the bookcase, but I'm terrible at haggling–I oscillate between being too demanding and too easily taken).
I'll save the FREE story for another day, because it's pretty awesome.
Today, I'll tell you of the modest wooden rocking chair that got a fresh coat of fuchsia with some light distressing and is now fit for Fancy Nancy.
I'm sorry, you aren't familiar with Ms. Nancy? Remedy that here.
It's a brief tale, actually. I knew I wanted a pop of dark pink in Bun's room and after I moved her glider to baby boy's room, she needed a new rocker to read stories in. I came across a couple pics of pretty painted rockers and decided I'd search for one to paint pink.
The Inspiration Pics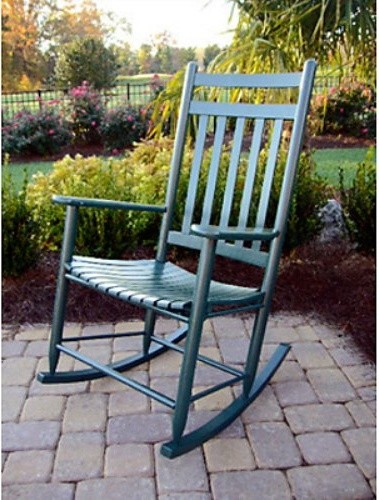 The Before
The After
How To:
1.) Lightly sand the piece and wipe clean with a damp cloth.
2.) Paint with as many coats as you need. I did 3 coats of Eros Pink by Sherwin Williams. I skipped priming, as usual.
3.) Distress along edges and around nooks. I used a combo of sandpaper, Rub 'n Buff, some random glaze stuff I had on hand, and the little metal tool that comes with the paint (to scrape around edges). You could also use a wax like this one, available here.
4.) Spray with polycrylic to seal your work. If using a wax, skip this step.
I've tried various pillow scenarios on it but they've either been too puffy or have slipped through the crack in the back. So the Fancy Nancy chair remains adorned only with a handmade quilt from a dear friend. More than adequate.
What I Learned from this Project
1.) Wooden rocking chairs exist in abundance on Craigslist, even in a small town.
2.) Wooden rocking chairs make good secondhand purchases, as they are, um, wooden, generally well-built, and durable. Solid wood pieces also take sanding and repainting well.
3.) Wooden rocking chairs have lots of spindles. Which are not fun to paint.
Have you done any fun refinishing projects?